Biological System Robotic Workstation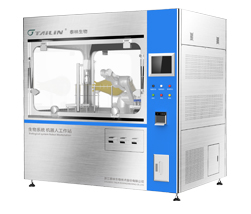 Introduction
The Robotic Isolator is a complete biosystem workstation with built-in robots. It is designed to replace manual operation through systematic integration, so that completely avoid the contamination risk or cell toxicity / allergenic product injury to persons during the sterile production process.
The perfect cooperation between isolators, VHPS technology, and robotics significantly improve product quality, personnel safety and work efficiency.
Features
1. Biosystems robotic workstation consists of a rigid laminar flow isolator, a VHPS® biological decontamination system and a six-axis industrial robot;
2. The robot has been specifically designed to withstand hydrogen peroxide sterilization and does not cause pollution during working;
3. Conduct decontamination by the VHPS® unit and cleaning and pressure maintenance by laminar flow unit, which can maintain a Class A clean environment inside the workstation;
4. Through pre-editing program, the robot can automatically finish many operations such as opening container lid, filling, and mixing, etc. It is repeatable and with high accuracy;
5. By reducing the over sleeves and optimizing the structure, the isolator can complete the VHPS® decontamination process in short time to ensure product quality and enhance efficiencyŁ»
6. According to user actual needs, the workstation can integrate various types of functional components;
7. The inner wall of the isolator and the robot operating unit can be dustproof and waterproof to IP65. The CIP spray system is for option;
8. System has been installed with environmental monitoring system, which can conduct real-time monitoring towards the internal environment;
Parameters
Specific technical parameters are based on customized model
Applications
Robotic isolators are widely used in cell and tissue processing, cell sterile culture, new virus research, hazardous chemical production,and radioactive product handling.